Press button to pledge Online
and contribute to MCC's
Moderator's Circle.
UFMCC is a 501(c)3 Religious Organization. Contributions or gifts to Metropolitan Community Churches are tax deductible as charitable contributions.
Moderator's Circle Update – September 2014
Dear Moderator's Circle Members:
Thanks to you:
Our Office of Emerging Ministries gave an exciting report on innovations in the Emerging Church Program! We now have 25 Emerging Churches around the world! Look for a release of the report soon!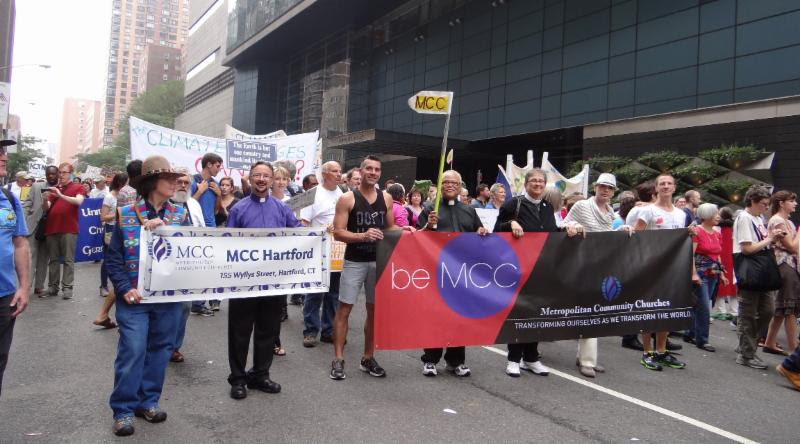 (MCCers lining up with the multi-faith contingency to prepare to step off to join the People's Climate March; Photo: Jon Ford / MCC Hartford)
I just returned from the historic

People's Climate March

with over 400,000 other people in NYC (there were over 2,800 solidarity events in at least 166 other countries), including a multi-faith service prior to the march, where I was only one of two heads of a denomination present. I was invited to offer a prayer for the nearly 10,000 people gathered in that block!  (MCC staff member Jason O'Neill captured my prayer on video, and we have uploaded it to MCC's YouTube account:

Rev. Dr. Nancy Wilson's prayer at multi faith service for People's Climate March, 21 Sep 2014

) We had over 20 MCC representatives from Florida, Texas, Connecticut, and New York (all in the USA)… and even one from Toronto (Ontario, Canada)! I piloted

A Queer Response to Climate Change

with Peterson Toscano, J. Mase III, and Joe Stevens at MCC New York, and we offered a similar workshop to a full room as part of

NYC Climate Convergence: People, Planet and Peace Over Profit

. I also participated in the interfaith service as part of the

Religions for the Earth Conference

, where the speakers included former U.S. Vice President Al Gore, writer Terry Tempest Williams, and one of our plenary speakers from MCC's last General Conference, Rev. Dr. James Forbes!
We are on the front lines of Marriage Equality in Florida (USA), as our churches take a front and center role.
I delivered the first lecture in a special academic series offered in three languages by the Garner Institute on the impact of Marcella Althaus-Reid, a lesbian theologian: Queering Theologies.
We are offering a MEGA SUMMIT, 30 October – 1 November, in Kansas City (Missouri, USA) on Stewardship and Programming. We hope you will attend this transformative event.


(From left to right: Linda Brenner-Beckstead, Carlos Chavez, Barb Crabtree, Eliud Dimas, Rev. Dr. Nancy Wilson, Michelle Gentzen, Jennifer Justice, Rev. Roland Stringfellow, Lauren Bennett)
We have hired new staff for General Conference (Lauren Bennett, an MCC Leadership Mentoring Retreat graduate!), had our first General Conference planning meeting, and said thanks and goodbye to Jennifer Justice (who will be leaving MCC staff in December to practice law). We'll have more information in an upcoming issue of Headline News.
We are preparing to invite people recommended by MCC lay delegates and clergy as Elders, who will be appointed in December, and approved and affirmed next year. This will increase our Council of Elders from 4 to 9. Stay tuned for more information.
(Bishop Yap Kim Hao, retired Methodist bishop who is "spiritual father" of Free Community Church, Singapore; Rev. Elder Darlene Garner, MCC)
Rev. Darlene Garner has visited our European Network, where people from 9 countries attended a gathering in Stuttgart, Germany. Then she headed to Singapore for the Amplify conference to meet with Asian MCCs and partner organizations.
(CLM graduation – Philippines – September 2014)
Rev. Elder Dr. Mona West is currently in the Philippines, where we are offering the LEAD (lay leader education) program and a train-the-trainers event for Creating a Life That Matters!
We were able to hold our global Network Leaders face to face training so that our Networks can grow in excellence in the ways they connect our churches and provide care and delivery of resources.

MCC's anniversary is nearly upon us. Help support our Networks by encouraging your churches to take an MCC Fellowship Sunday Offering in October or November of this year.
Prayers for Rev. Jim Mulcahy as he travels in Russia visiting our groups there, many of which are struggling and are mostly "underground," and for the clergy he mentors who are just coming out and seeking support as they courageously minister to our communities there.
The board (on which I serve) of our Global Justice Institute is meeting this month. We are excited by our safe house projects in Nigeria and Kenya (for Ugandan human rights refugees).
Please congratulate our new Governing Board Officers for this year: Rev. Clinton Crawshaw, Vice-Chair; Gail Rissler, Treasurer; and Sarah-Jane Ramage, Secretary. Please also congratulate our Governing Board Nominating Committee for the 2016 General Conference.
I am so grateful to Gail Rissler, our MCC Treasurer, and her volunteers at King of Peace MCC in St. Petersburg (Florida, USA), and all the musicians, for an amazing Moderator's Circle Gratitude Concert! Almost 200 people gathered, even from beyond Florida, as we celebrated the global work of MCC and how the Moderator's Circle has increased our capacity in so many ways. New members were added to the Circle, and others increased their monthly gifts. We are very grateful indeed!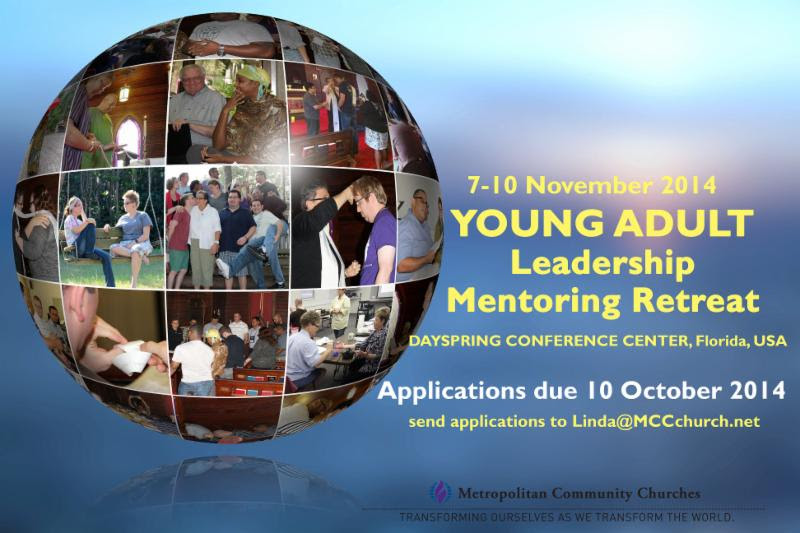 Finally, please encourage Young Adults (18 to 35) you know who would benefit from the Young Adult Leadership Mentoring Retreat, 7-10 November, to apply now! We extended the registration deadline to 10 October.
I started my sabbatical 24 September and will be gone through the end of November. During this time, our Senior Leadership, Elders, Governing Board, and staff will continue to serve MCC with excellence and joy.
I will be taking time to rest, refresh, write, and retreat! I am looking forward to focusing on a book project, so please pray for me! Meanwhile, Rev. Tony Freeman and Rev. Elder Hector Gutierrez will be my guest Moderator's Circle update editors for October and November.
As we prepare our 2015 program and budget for MCC globally, I am so aware that we could not do what we do without your faithfulness and your gifts. You are making a difference!
Rev. Dr. Nancy Wilson
Moderator

---
Why we give to MCC…
Here are some stories of people like you who contribute regularly to MCC.
| | | |
| --- | --- | --- |
| "We each love our local church, yet the denomination offers us a shared history and a common future. Being part of something bigger makes us stronger and gives us a wider focus, beyond our own congregation. How many organisations can you be part of where you know that you are making a difference to the lives of individual people all over the world? Each day MCC worldwide saves a life and gives a person hope. Isn't that what we are called by Christ to do?" | "While there is an increasing visibility and recognition of the spiritual needs of the LGBTQ community in "mainstream" denominations , MCC remains as the foundational organization that not only "affirms" but "celebrates" our lives, including our sexuality. The ability to express our entire, authentic selves in the context of a community that reflects our inherent worth and value makes it incumbent upon all of us who benefit from this movement" | "I tithe to my local church, but I also felt called to tithe to the MCC denomination that I work for. Tithing is biblical and I cannot keep taking from the barn if I am not prepared to replenish it with the fruit of my labor. I believe in the mission of MCC, I believe in our global outreach and I believe in our Moderator's vision." |
| " I invite you to join me in becoming a member of The Moderator's Circle, as the best way MCCers in this generation and in this moment can partner with Nancy to realize our Moderator's vision for launching new church starts, reaching a new generation of young people, doing justice around the globe, and continuing the vital work of changing the heart and face of Chr" | "MCC helped me to reconcile my spirituality with my God-given sexuality. The message and the people of MCC helped me become whole. I am a monthly donor to The Moderator's Circle because I want others to heal just as I have, and so that others who are still oppressed can become free." | "On the last night of the Leadership Mentoring Retreat in January, we visited with MCC's Governing Board. As I listened to their calling to serve, I was humbled and inspired. I was humbled by their faithfulness, against so many odds, to be leaders in a movement that continues to invite all into God's welcoming embrace. And I was inspired by their energy to give: of their wisdom, their gifts, and their tithes to the ministry of MCC." |
Click Here to read more testimonials from more people for whom MCC's ministry has been life-changing.
---
Are you in the Moderator's Circle?
You can sign up today to join the Moderator's Circle. Click on the button below to make your monthly pledge.
Thank you to all who are generously contributing to MCC's Moderator's Circle. Your contributions are making a difference in people's lives every single day.
 UFMCC is a 501(c)3 Religious Organization. Contributions or gifts to Metropolitan Community Churches are tax deductible as charitable contributions.
---
Moderator's Circle Members
Adam DeBaugh
Adrain Bowie
Adrian Buganey

Aileen Koke and Deborah Wilson

Allan Hauth

Ann S. Brown (in Memory of Mildred 'Millie' Warren)
Ann Craig
Ann Perry and Pat Turner

Ann Vassilaros and Fran Solitro

Ann Willbrand and Patricia Woody

Anne Atwell

Annette Beall and Carolyn Gay
Anthony Viglione
Ayawnda Alise

Anthony Harris

Barb Crabtree

Barbara Mann

Bethene O'Neal

Bob Skaggs and Parker Fortier

Bob Whitman and Will Knicely

Bonnie Alberti and Wendy LaChaunce

Brett Doig
Brianna Johnston

Bruce Brooks and Charles Kline

Bryan Parker

Camille Jones and Shirley Mould

Carl Krysa and Lary Bank
Carlos Chavez and Roman Perez

Carol Scherfenberg and Bonnie Dostie
Carol Youngblood

Carole Weissman and Bonnie Moore

Cate Bransfield
Catherine Munion and Floss Marino

Catherine and Robert Stanlick

Charlene and Elizabeth Bisordi
Charles Beall
Chris and Dawn Soucy

Christopher Lacharite
Christopher Van Ast

Chuck Phelan and Steve McIntyre
Clyde W. Proch and Scott K. Farmer

Colleen Stuppy and Lisa Thome

Connie Meadows and Haviland Houston
Curtis L. Smith

Cynthia A. Marquard and Darlene R. Stille

D. Anne Bruetsch

Dale Schafer

Darlene E. Purugganan and Michelle Gaffron
Dallas McGee

Dave Dishman

David Hettinger
David Phillips

David Russell

David Sorey and Donald Johnson
Deb Kassien

Deb Krusemark
Deborah Blanton and Bernadette Comstock
Derrick Williams and Robert Gessell
Donn Ferrell
Donna Olsen
Doug Napier

Douglas C Berger & Shawn Cochran

Dr. Gail Evans (In memory of Rev. Jean Hart)
Elaine Davis and Lois Clark
Elijah Nealy
Elizabeth Dunn

Fenicia Ballard and Sandra Meaders
Frank Vitale
Fred Wenzel

Frieda E. Smith
Gail Rissler
Gail Simonds
Gary Hampshire
G.C. Brafford

George Murphy

Glenn Stover
Holly Blonde

H R Nicholson
Huey Lee
Jack Dollevoet
Jackie Carter and Claudia Griffith
James Carpenter and Dean Turner

Jaymes Grace

Jason O'Neill & Thomas Renner
Jeanne Scanlon

Jerry Small

Jimmy McClure
Jo-Anne and Melinda Ludy

Joan Higgs and Sandra Carlile

Joe Baker Jr

John Adkins

John and Colleen Foley

John Garcia and Elroy Hahn
John Magisano
John Moehnke

John Weyersmiller

Judith Longman and Rev. Lisa Dawn McCabe
Judy Jarosz
Julie Ramza and Patricia Fester

Justin Ritchie and Jason Beverley
Kam Cummins

Karen Dillaman

Kathy Hanas

Kathy Probst and Linda Renaud
Kay H. Neill

Keith Thompson and Dan Dowd

Keith Waataja

Kenneth Theriault and Douglas Furness

Kevin Highfield

Kevin Markham and Terry French

Kevin Tuck

Kim Habermann
Lauren Elizabeth Bennett
Lillian Lewis

Linda Brenner-Beckstead and Susie Brenner

Linda Hardy and Phyllis Nelson
Linda Mudd

Liz Bupp
Lynne McCarthy

Lynda Simmons

M.J. Blackburn
Madelyn Lee Taylor
Marcia Morgan
Mari Gilman and Jackie Gascho
Maria Lau

Marian Schoenwether

Mark and Mittie Dick

Mark Hahn

Mark Kornmann

Mark Roderick

Marsha and Cindy Stevens-Pino

Marsha Warren and Michelle Burnett

Martha Marinara

Marvin Bagwell
Mary Ann Bangiorno and Gwendolyn Templeton

Mary L. Warders and Linda K. Price
Melanie Frahm and Rev. Katie Houts
Melvina Davis
Michael Cavett
Michele Stacer
Michelle Kirby Randall
Monica Smith and Kathleen O'Neal

Pam Osborne and Nancy Baca

Pat Boyd and Sharon Sylvester

Paul Moyer and Mark Mell
Paul P. Steindel

Phil Griffin and Carl Johnson
Phyllis Moore and Janice Danielson
Preston Pulliam

R J Hadley
Randy Bromley

Raquel Benitez and Carmen Llanos

Ray Nutter and Vince Larkin
Ray Selvey

Redimido en Cristo

Rev. Aaron Miller
Rev. Anthony Freeman
Rev. Barbara Freeman and Rebecca Milam

Rev. Booth Iburg and Denise Williams
Rev. Brad Rice
Rev. Caedmon Grace
Rev. Carol Hale

Rev. Carol Chambers
Rev. Carolyn Mobley

Rev. Cathy Alexander
Rev. Cathy Porter and Robyn Proctor

Rev. Charley Garrison and Mark Barnett

Rev. Clarence Witt

Rev. Clinton Crawshaw

Rev. Dan Koeshall

Rev. David and David Eichelberger

Rev. David Farrell and Gilbert Caldwell

Rev. Deana Dudley
Rev. DeWayne Davis and Kareem Murphy

Rev. Donna Twardowski and Marilyn Kane

Rev. Dr. Candace Shultis and Barbara Tyner

Rev. Dr. Carol Trissell

Rev. Dr. Danny Spears and Richard Lofstrand

Rev. Dr. Jim Merritt and Al Leach

Rev. Dr. Joan Saniuk and Sharilyn Steketee

Rev. Dr. Keith J. Phillips

Rev. Dr. Kharma Amos and Kala Payne

Rev. Dr. Lea Brown and Sarah-Helen Land

Rev. Dr. Mark Lee and Ivan Loy

Rev. Dr. Michael Diaz

Rev. Dr. Mona West

Rev. Dr. Neil Thomas and Isai Cazares
Rev. Dr. Renee McCoy

Rev. Dr. Robert Griffin and Rev. Dr Durrell Watkins

Rev. Dr. Robin Gorsline

Rev. Dr. Stephanie Burns and Tracey Kennedy

Rev. Dr. Thomas Bohache and Tom Laughingwolf Simmons

Rev. Dr. Tony Thieman-Somora and Tony Somora

Rev. Dr. Troy Perry and Phillip De Blieck

Rev. Dr. William Knight

Rev. Dusty Pruitt and JoAnne Rhodes

Rev. Dwayne Johnson
Rev. Edwin Yates

Rev. Elder Arlene Ackerman

Rev. Elder Cecilia Eggleston

Rev. Elder Charlie Arehart and David Black

Rev. Elder Darlene Garner and Rev.Candy Holmes

Rev. Elder Diane Fisher
Rev. Elder Don Eastman

Rev. Elder Dr. Nancy Wilson and Dr. Paula Schoenwether

Rev. Elder Hector Gutierrez

Rev. Elder Kenneth Martin

Rev. Fern Gaffey and Laura DaltonRev. Fran Mayes

Rev. Gail Hicks

Rev. Gale Rawson and Dr. Gail Atchison

Rev. George McDermott

Rev. Gordon R. McCoy and Dr. Eugene M. Thomas

Rev. Harry Knox and C. Michael Bozeman

Rev. Jake Kopmeier and Sandra T. Stewart

Rev. Jane Nelson and Gay Fritzemeier

Rev. Janice Bowker and Marina Laws

Rev. Jeanne George
Rev. Jo Bell and Cheryl Meyer

Rev. Joe Cobb
Rev. John Mark Hild

Rev. John McLaughlin

Rev. John Torres

Rev. Joy Etwell

Rev. Kay Seitz

Rev. Kurt Krieger and Larry Bailey
Rev. Lisa Heilig and Tammy Johnson

Rev. Lori Dick

Rev. Lori Rivera and Darlene Hatch

Rev. Lorraine Brock

Rev. Margarita Sanchez de Leon and Frida Kruijt

Rev. Marian Cavagnaro

Rev. Mark Beckett
Rev. Maxwell Reay and Lewis Reay

Rev. Melanie Martinez and Tammy Erwin

Rev. Mike Hydes and Chris Baker

Rev. Onetta Brooks

Rev. Peter Trabaris
Rev. R. David Smith

Rev. Renae Phillips and Terrie Bennett

Rev. Renwick Bell
Rev. Rick Sosbe and Michael Rhen

Rev. Robert Life

Rev. Robin White and Barry Christensen

Rev. Ron LaRocque

Rev. Ruth and Elizabeth Jensen-Forbell

Rev. Sandy Williams

Rev. Sky Anderson and Ofelia Fay Anderson

Rev. Steve Torrence and John Hernandez

Rev. Suzie Chamness

Rev. Terri Echelbarger and Eileen McCree
Rev. Terri Steed

Rev. Thomas Emmett III

Rev. Tim Hamilton
Rev. Vickie Miller and Carol Lidey

Rev. Victor H. Floyd and Lou Grosso
Richard Henry
Robert Bayer

Robert Cooley
Robert Firster
Robert Fleming

Robert Landry and Donald Kinghorn

Robert Ochoa

Robert W. Pope and Lawrence Konrad

Robin Lee
Ron Reeser and Vince Olivier

Russell Murphy
Sally Deike

Samuel Ramirez

Sara Sills and Kay Hedgepeth
Sarah-Jane Ramage and Andrew Smithers

Scott Strickler

Sharon Cox Ludwig

Sherrill Parmley

Skip Chasey

Stan Kimer
Stephanie Breaker
Stephen Filizzi

Sue Schwerin

Susan Lukwago
Teresa White

Tim Mitchell and Randy McGuire
Tina Rayfield

Toby Bishop and Kevin Downer
Todd Goewey
Tory V. Topjian

Toni Smith

Vickey Gibbs and Cassandra White

Walter Weiss

Walter Wilson
William Tucker

Wayne Davis

Yew-Hoe Tan

ShareThis

For
Email Marketing
you can trust